Anton Alvarez
Current Long-Term Resident Artist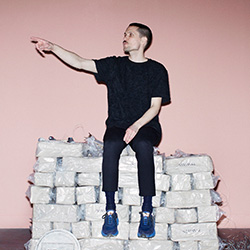 Hometown: Stockholm, Sweden
Anton Alvarez thinks of his studio practice as having two parts. First, he uses drafting and design techniques to create the tools and processes he needs for his work. Second, he puts the resulting equipment, tools, etc., to use as an artist and craftsperson, exploring the possibilities such tools create and investigating the potential of new materials and techniques. Ultimately, he believes that true innovation can only happen in the moment of making, enabling him to achieve results that are more fantastic than could have been planned or anticipated ahead of time.
Chilean-born Anton Alvarez is a recent graduate of the Royal College of Art in London. Alvarez originally studied cabinetmaking before completing an Interior Architecture and Furniture Design course at Konstfack in Stockholm. His work has been exhibited internationally including solo shows at Salon94 in New York, the Xue Xue Institute in Taipei and Gallery Libby Sellers in London. Anton joins the Bray as the 2017 Taunt Fellow.
There are no products listed under this category.