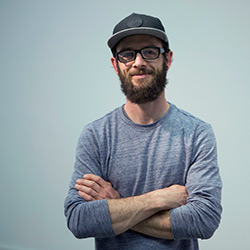 Current Long-Term Resident Artist
Hometown: Idaho Falls, Idaho
Using the human object as his primary vehicle, Kelsey Duncan examines the resilient nature of the human experience and the complex politics of the human body. More specifically, his current work is an investigation of the fluidity of identity as it relates to control over one's body and the space it inhabits. Ultimately, by engaging and reconfiguring tropes of figurative representation, he proposes alternative ways of considering the body types that have been limited by the conventions of contemporary American culture.
Kelsey earned his MFA in ceramics from Ohio University, in 2017, and a BFA in ceramics from the University of Montana, in 2011. He served as an instructor and artist-in-residence at the Clay Art Center in Port Chester, New York, in 2012. Most recently, he was faculty at the Clay Art Center and the 92Y in Manhattan, and a short-term resident at the International Ceramic Studio in Kecskeme in Hungary. Kelsey is joining the Bray as a 2017 Windgate Scholar.
To view more work by Kelsey visit his website at kelseyduncan.net.